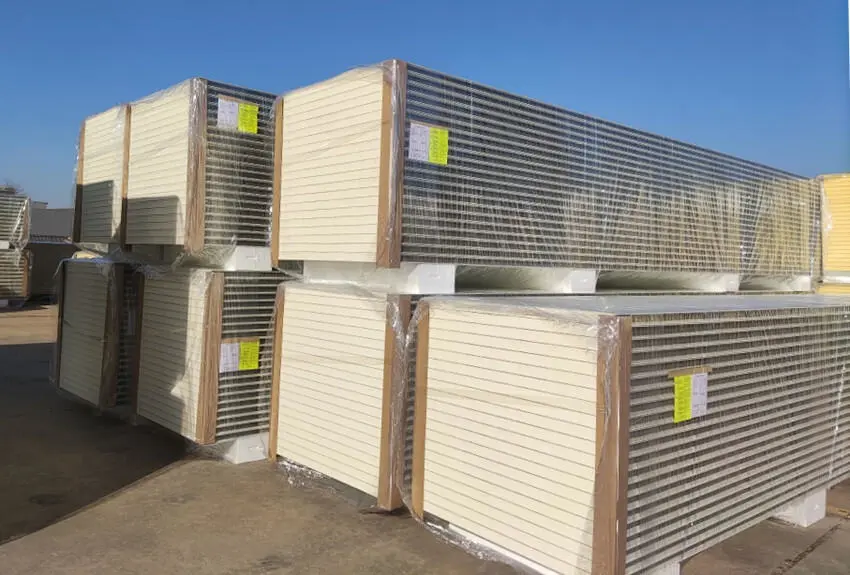 Polyurethane rock wool board has been widely used in Europe, the United States, Japan and other developed countries as building energy-saving and thermal insulation materials, but it is not widely used in China. As an excellent energy-saving and thermal insulation material, polyurethane sandwich panel has good thermal insulation, fire protection and thermal insulation performance, which can provide a solution for energy consumption crisis.
Polyurethane composite board is composed of upper and lower color steel plate and middle foaming polyurethane. It has light weight, beautiful appearance, good corrosion resistance and can be processed directly. It provides a new raw material for construction industry, shipbuilding industry, vehicle manufacturing industry, furniture industry, electrical industry, etc. it has good effects such as replacing wood with steel, rapid construction, energy saving and pollution prevention.
Because of its good fire and moisture-proof performance, polyurethane of polyurethane composite board is also commonly used as edge sealing core material of other composite boards. Polyurethane edge sealing composite board adopts high-quality color coated steel plate as surface material, continuous rock wool and glass wool as core material, high-density rigid foamed polyurethane as tongue filling and high-pressure foaming curing, Compared with the traditional hanging cotton maintenance materials, it has better fire protection and heat preservation effect, more durable performance, convenient installation and elegant appearance. It is an ideal choice for steel building maintenance materials.
Polyurethane sandwich panels are widely used in large industrial plants, refrigerators, garages, mobile houses, exhibition halls, gymnasiums, shopping malls, airports, power plants, villas, hospitals, floors and high-rise office buildings. Due to its excellent thermal insulation performance, polyurethane sandwich panels are mainly used in the roofs and walls of industrial and civil buildings.